Back to the list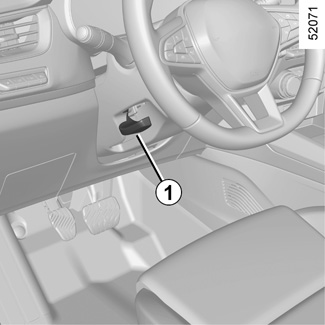 Adjusting the steering wheel height and depth
Lower the lever 1 and position the steering wheel in the required position.
Then, raise the lever fully, beyond the point of resistance to lock the steering wheel.
Make sure that the steering wheel is correctly locked.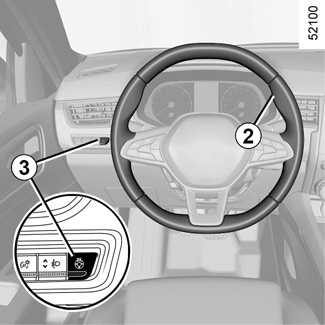 Steering wheel heating
(depending on vehicle)
This function heats the steering wheel 2.
Operating principle
When the temperature is reached, the function regulates the temperature of the heated areas for approximately 30 minutes and then switches off automatically.
Activating the function
With the ignition on, press the switch 3, the warning light integrated in the switch lights up.
Deactivating the function
- Automatic:
The function switches off automatically after the regulation phase of approximately 30 minutes. The warning light integrated in the switch 3 remains on.
Note: if the function has switched off automatically, press the switch 3 twice to reactivate it.
If switch 3 is not pressed again, the function will be reactivated the next time the ignition is switched on.
- Manually:
To deactivate the function during the regulation phase, press the switch 3. The indicator light in the switch 3 goes out.
For safety reasons, only adjust the steering wheel when the vehicle is stationary.