Back to the list
REAR BENCH SEAT: functions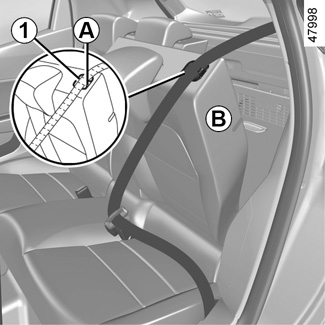 To fold down the seatback
Ensure that the front seats are far enough forward.
Before folding down a seatback:
- lower the headrest fully;
- place the seat belt in the belt guide A and buckle the seat belt. This prevents the seat belt from locking when the seatback is lifted up again.
Pull the vane 1 and lower the seatback B.
Note: for safety reasons, the seatback B is equipped with a retaining system. You may experience resistance when handling.
To replace the seatback, proceed in the reverse order to removal.
Raise the seatback again until it reaches the locking joint of the seatback.
Be careful not to jam the safety strap between the backrest and the parcel shelf.
Check the operation of the seat belt.
Before moving the seatback, put the seat belt in belt guide A to avoid damaging it.
When refitting the seatback, make sure it is correctly locked in place.
If seat covers are fitted, make sure these do not prevent the seatback latch from locking in.
Make sure that the seat belts are positioned correctly.
Reposition the headrests.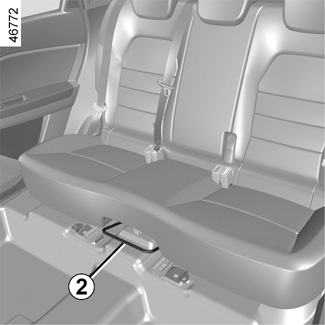 To move forwards or backwards
Lift the lever 2 from the rear seats to unlock the bench seat.
Move the seat forwards or back to the required position.
Release the lever 2 and ensure that the bench seat is properly locked.
For safety reasons, carry out any adjustments when the vehicle is not being driven.
When moving the rear seats, ensure that nothing obstructs the anchorage points (passenger's arm or leg, a pet, gravel, cloth, toys, etc.).