Back to the list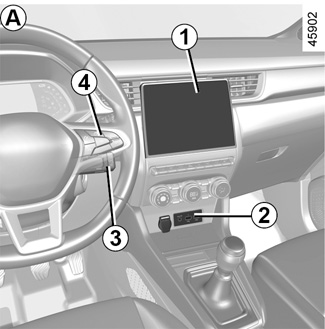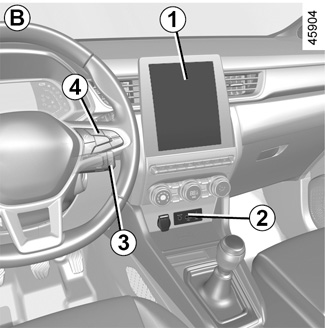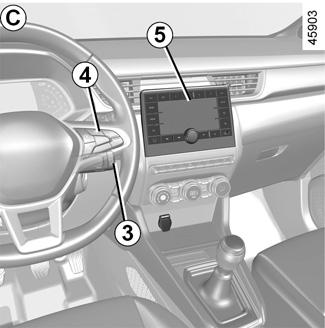 Multimedia system A, B or radio C
The location and operation of equipment may vary according to the vehicle.
1 Multimedia screen;
2 Multimedia sockets;
3 Steering column controls;
4 Steering wheel controls;
5 Radio.
Multimedia sockets 2
You can use the USB sockets to access the multimedia content of your accessories and to update the system.
The various sources can be selected using the multimedia screen or the radio and the steering column controls.
The sockets USB can also be used to recharge accessories with a maximum power rating of 12 Watts (5 Volts) per socket, which have been approved by our Technical Department.
The JACK socket enables the radio to be used with an auxiliary cable.
Please refer to the multimedia instructions for further information.
Connect accessories with a maximum power of 12 watts only.
Fire hazard.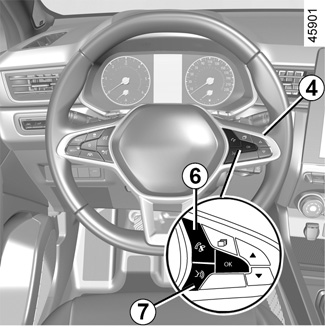 Steering column controls 4
You can use the hands-free telephone 6 and voice recognition 7 controls on vehicles fitted with these.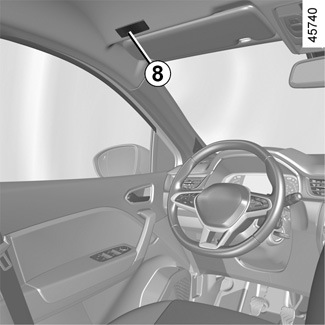 Microphone 8
Wireless charger 9 (depending on the vehicle)
Using the telephone
We remind you of the need to conform to the legislation in force concerning the use of such equipment.