Back to the list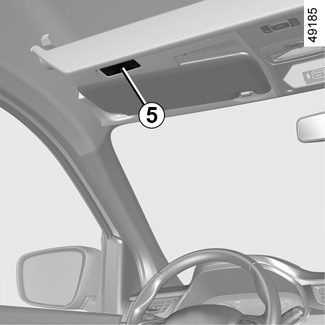 The location and operation of equipment may vary according to the vehicle.
1 USB sockets;
2 Multimedia screen;
3 Multimedia socket;
4 Steering column controls;
5 Microphone.
Hands-free telephone integrated control
On equipped vehicles, use the hands-free telephone controls 4 under the steering wheel.
Sockets USB 1
The sockets USB can only allow recharge accessories approved by the brand's Technical Services of power not exceeding 12 watts (voltage 5 V) per outlet.
Multimedia socket 3
You can use USB socket to access the multimedia content of your accessories.
The various sources can be selected from the multimedia screen and from the steering column controls.
Please refer to the multimedia instructions for further information.
Using the telephone
We remind you of the need to conform to the legislation in force concerning the use of such equipment.
Connect accessories with a maximum power of 12 watts only.
Fire hazard.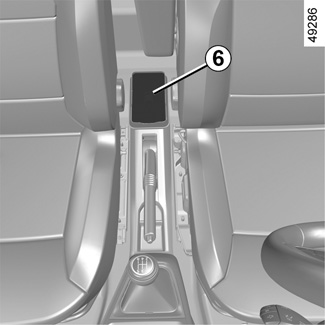 Wireless charger - induction charging
Use the induction charging zone 6 to charge a telephone without a cable.
Note:
- for more information on the list of compatible telephones, contact an authorised dealer or the telephone manufacturer;
- it is preferable to remove the protective bodyshell or case from your telephone before charging to obtain optimal charging.
Charging procedure
Place your telephone at the centre of the induction area 6.
Phone charging is interrupted in the following cases:
- an object is detected in the induction area 6;
- the induction area 6 is overheating. Once the temperature has dropped, your telephone will soon start to charge again.
Charging progress
The charger indicator shows the phone charging status:
- green: charging complete;
- orange: charging in progress;
- flashing orange: charging interrupted.
With the engine running, check that the warning light turns orange when the telephone is positioned in the induction charging area 6.
It is essential not to leave any objects (USB drive, SD card, credit card, jewellery, keys, coins etc.) in the induction charging area 6 whilst charging your phone. Remove all magnetic cards or credit cards from the case before positioning your telephone in the induction charging area 6.
Objects left in the induction charging area 6 may overheat. It is advisable to place them in the other storage areas provided. (storage compartment, sun visor storage compartment, etc.)