Back to the list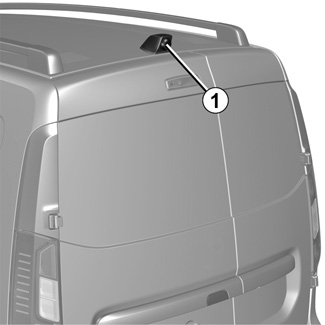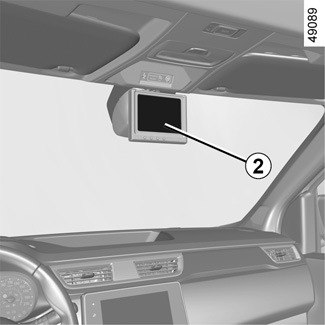 When the vehicle ignition is switched on, the screen 2 fixed to the windscreen will display a warning message for approximately five seconds, then it will display the view behind the vehicle using the camera 1.
Note: the screen 2 can be positioned left to right or top to bottom.
Special features
The camera is equipped with an automatic de-icer which is activated when the temperature is below approximately 8°C.
Make sure that the 1 camera is not obscured (by dirt, mud, snow, condensation etc.).
This function is an additional aid. It cannot, therefore, under any circumstances replace the vigilance or the responsibility of the driver.
The driver should always be ready for sudden incidents while driving: always ensure that there are no small, narrow moving obstacles (such as a child, animal, pushchair, bicycle, stone, post, etc.) in the blind spot when manoeuvring.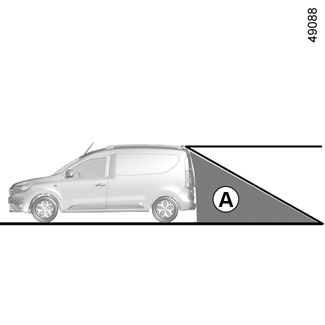 Operation
The camera's field of vision does not cover the entire area behind the vehicle, particularly the blind spot area A.
On vehicles equipped with the Stop and Start function, the display remains active when the engine is in standby. STOP AND START FUNCTION.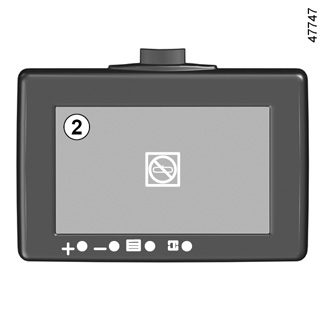 Objects which appear on the edge of screen 2 may be deformed.
In very bright light (snow, vehicle in sunshine, etc.), the camera view may be partially disturbed.
In low brightness or poor weather, the image on the screen may be distorted.
Switching off the function
The display switches of:
- immediately when engaging reverse gear;
- 30 seconds after the ignition is switched off.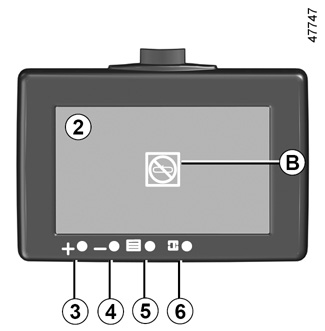 Adjustment of the display
Accessing the brightness modes
Press button 6 repeatedly to select one of the four preset brightness modes:
- "day" mode;
- "intermediary" mode;
- "night" mode;
- "black screen" mode: allows suspension of the display. Screen 2 displays a black image accompanied by the "OFF" message. To exit this mode, press button 6 again to access the first brightness mode ("day" mode).
Adjustment of brightness modes
Once the mode has been selected, press button 5as many times as required to access the type of setting you wish to change:
- brightness;
- contrast;
- colour;
- RESET: resets factory settings.
Press buttons 3 (+) or 4 (-) to adjust the setting.
Note: only the first three modes ("day", "intermediary" and "night") can be set.
Operating faults
When the system detects an operating fault, warning light B appears temporarily on screen 2.
This may be caused a temporary fault affecting the camera or screen (clearness, fixed image, delayed communication, etc.).
If the warning light remains on, consult an approved dealer.
Each time the vehicle is started, the function returns to the settings saved at the last engine stop.