Back to the list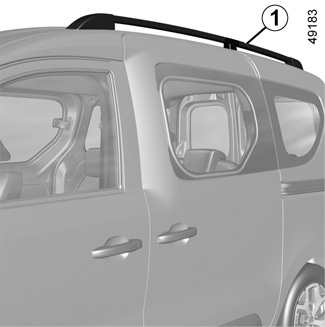 Vehicles fitted with longitudinal roof bars
If fitted on the vehicle, you can transport luggage or additional equipment (bike racks, ski racks, etc):
- on a roof rack;
- on transverse roof bars fitted onto the longitudinal roof bars 1;
- directly onto the longitudinal roof bars.
It is forbidden to fit longitudinal roof bars on vehicles which are not originally equipped with them.
Vehicles not fitted with longitudinal roof bars
Unscrew the blanking covers 2 in order to access the mounting points.
For information on the range of equipment adapted to your vehicle, we advise you to consult an approved Dealer.
Refer to the manufacturer's instructions for information on how to fit and use the roof rack bars.
Please keep these instructions with the rest of the vehicle documentation.
Maximum permissible load on roof rack WEIGHTS (IN KG).
If original roof bars, approved by our Technical Department, are supplied with screws, only use these screws for attaching the roof bars to the vehicle.
The attaching of any carrying device (bike rack, luggage box, etc.) resting on the luggage compartment lid is prohibited. To install a carrying device on your vehicle, contact an Approved Dealer.