Back to the list
VEHICLE SETTINGS CUSTOMISATION MENU
Depending on the vehicle equipment, this function allows you to activate/deactivate and adjust some of the vehicle's functions.
Vehicles fitted with a navigation system
Accessing the settings menu
With the vehicle at a standstill, using the multifunction screen 1, select menu "Vehicle", "User settings" to access the various settings.
Adjusting the settings
Select the function to modify:
a) unlocking the driver's door;
b) automatic locking of the doors while driving;
c) hands-free function;
d) indicator audio volume;
e) internal welcome sound;
f) external welcome;
g) reading lamp in automatic mode;
h) rear windscreen wiping in reverse gear;
i) configuration of the driving style indicator;
j) Active noise control.
Select "ON" or "OFF" to activate or deactivate the function.
For the "Light brightness intensity" function, select the intensity by pressing "+" or "-".
For safety reasons, carry out any adjustments when the vehicle is stationary.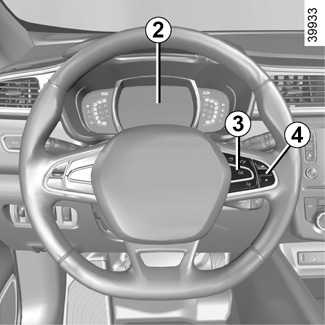 Vehicles not fitted with a navigation system
Accessing the settings menu on display 2
With the vehicle at a standstill, press and hold the switch 3 OK to access the settings menu.
Adjusting the settings
Browse using the control 4 to select the function to adjust:
a) Lock doorswhen in motion;
b) Unlock driver door only;
c) Auto rear wipe with reverse gear;
d) PARKING ASSIST;
e) Automaticmain beam lights;
f) Lane depart warn volume;
g) Lane depart warn sensitivity;
h) PARKING ASSIST;
i) PARKING ASSIST Volume;
j) LANGUAGE;
k) COLOUR.
= function activated
< function deactivated
Once a line has been selected, press the switch 3 OK to adjust the function.
If you select either "PARKING ASSIST VOLUME" or "LANGUAGE", you will have to make a further selection (sound volume of the parking distance control or instrument panel language). In this case, make your selection and confirm it by holding the switch 3 OK - the selected value is shown by a ~ in front of the line.
To exit the menu, press the control 4 upwards or downwards. It may be necessary to carry out this operation several times.
The vehicle settings personalisation menu cannot be used when driving. At speed exceeding 12 mph (20 km/h), the instrumental panel display switches automatically back to trip computer and warning system mode.