Back to the list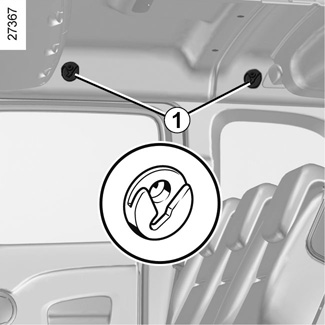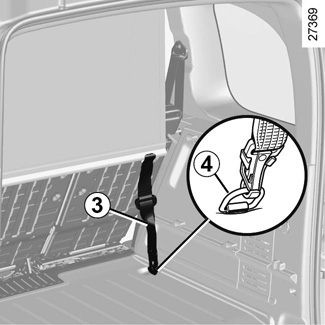 The luggage net
(depending on vehicle)
This is located in the luggage compartment.
It may be attached behind the front seats or behind the rear bench seat.
Hooks 1 may also be used to hang clothes.
Positioning the net 2
- Upper section: insert the tabs at the ends of the net in hooks 1;
- lower section: engage belts 3 in lashing rings 4 on the floor. Ensure that both forks of the lower hook are engaged;
- tighten the net using the tensioning units.
The luggage net must not be used to restrain or hold objects.
Risk of injury
For more information, refer to the label sewn onto the net.
Luggage compartment anchorages (rings) 4 cannot be used if they are already being used to secure two other components (eg. luggage net + load in the luggage compartment or child seat + load in the luggage compartment).