Back to the list
If the vehicle is equipped with it, the emergency call is a system that allows the emergency services to be called automatically or manually in the event of an accident or illness, in order to reduce the time they take to arrive on the scene.
If you use the emergency call function to report an accident which you have witnessed, this implies stopping where traffic conditions allow to allow the emergency services to locate your vehicle and therefore the location of the reported accident.
Use emergency call only in the event of an emergency if you are involved in or witness an accident or if you feel ill.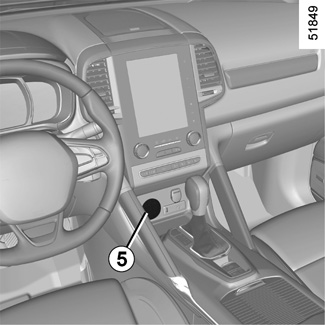 1 Phone network availability light: on if network available (green light), off if network not available;
2 Automatic mode warning light;
3 SOS switch;
4 Microphone;
5 Speaker.
A call is always made as follows:
- the call is set up with the emergency services;
- data related to the event is sent out;
- voice communication with the emergency services;
- if necessary, emergency assistance is called.
Emergency call has two modes:
- automatic mode;
- manual mode;
In the event of an accident, it is recommended that you stay close to the vehicle so that you can respond to the call centre if necessary.
Automatic mode
When warning light 2 is on, this indicates that the automatic system is activated.
With ignition switched on, the emergency call is triggered automatically in the event of an accident with airbag activated. Data are transmitted to the call centre (vehicle identification plate, time of the call, vehicle position, direction of the vehicle, etc).
The automatic emergency call is activated by default and can be disabled on request of the user at an Approved Dealer.
Manual mode
The emergency call is triggered by pressing switch 3.
Emergency call has two modes:
- in normal mode by pressing switch 3 for more than 3 seconds;
- in panic mode by pressing switch 3 five times in less than 10 seconds.
In the event of unintended operation, it is possible to cancel the call by pressing switch 3 for 2 seconds before the call to the call centre is set up.
Once a call is established, only the call centre can end the call.
Operating faults
In some cases, the emergency call function may not work:
- no fault detected and phone network unavailable;
- low battery;
-...
When the system detects an operating fault, the warning light 1 turns red; consult an Approved Dealer as soon as possible.
Check the condition of the battery, its service life is approximately 4 years (warning light 1 lights up in red to inform you).
Consult an approved dealer.