Back to the list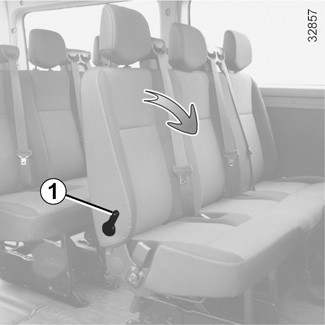 Access to the rear seats
Move the handle 1 backwards to lower the seat back.
To return the seat to its original position, bring the seatback back into position.
For safety reasons, carry out any adjustments when the vehicle is not being driven.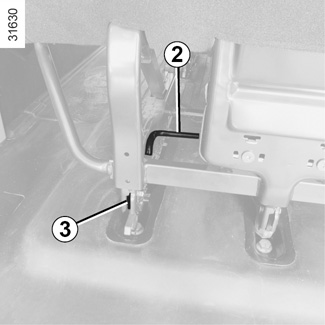 Removing the bench seat
Lift levers 2 situated behind each bench seat. The spigots 3 protrude to indicate that the bench seat is unlocked.
Pull the bench seat backwards to release the anchoring points, then lift it to remove it.
Removing the anchoring points is prohibited.
The bench seat is rather heavy (approximately 65 kg). For your own safety, please handle it carefully.
Risk of injury.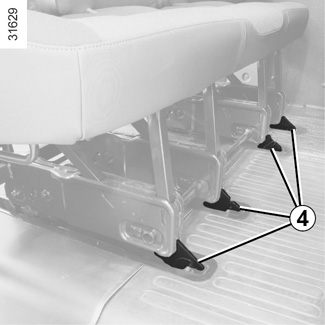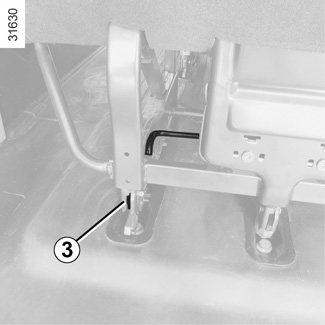 Refitting the rear bench seat
- Position the guides 4 on the rails set back in relation to the anchorage points;
- slide the bench seat forwards.
The bench seat will lock automatically.
Check that the red spigots 3 can no longer be seen.
The rear bench seats must be placed on their original anchorage points.
Driving with the bench seat in a rear-facing position is prohibited.
The row bench seats in rows 2 and 3 are not interchangeable. Do not force them into position.
Risk of damage.
When moving the rear bench seat, check that the bench seat anchorage points are clean (they should be free from grit, cloths or any other item which may prevent the bench seat from locking securely).