Back to the list
"Air quality" menu

From the home screen, press "Menu", "Vehicle", then "Air quality".

The "Air quality" menu shows you an image and an explanation of the air filtration system in your vehicle.

Activation/deactivation of the air freshening cycle

Depending on the equipment, you can activate or disable the air freshening cycle by selecting "ON" or "OFF". Please refer to the vehicle user manual for further information.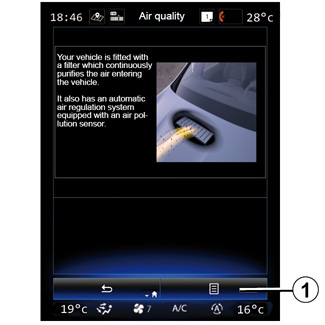 Reset settings values
This function returns to the default values. Press 1 then "Reset" to reset.