Back to the list
"Ambient lighting"

From the home page, press "Menu", "Vehicle" then "Ambient lighting".

This menu enables you to set the following settings:

- ambience lighting "ON"/"OFF";

- ambience colour;

- Intensity;

- Area.

"Ambient lighting"

This option can activate or deactivate the ambient light.

Note: when the "Ambient lighting" function is deactivated, the settings are not available.

Note: if your vehicle is equipped with "Multi-Sense", refer to the "Multi-Sense" section to access "Ambient lighting" from the pop-up menu then "Current mode configuration".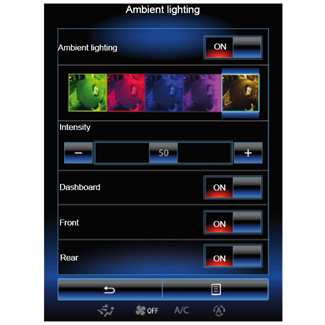 Choice of colour
To change the ambience colour of your vehicle, select one of those offered.
"Intensity"
You can control the intensity of the ambient lighting. To do this, press buttons + or -.
Area in the passenger compartment
The selected colour and intensity can be applied to the following areas:
- dashboard;
- front passenger compartment;
- rear passenger compartment.
Press "ON" for the selected colour and intensity to be applied.
Pop-up menu
To reset and return to the default settings, press the pop-up menu button, then "Reset".
Note: to save the ambient lighting you want on your user profile, make these adjustments from the "Multi-Sense" menu. For further information, please refer to the section on "Multi-Sense".
For safety reasons, carry out these operations when the vehicle is stationary.