Back to the list
"App manager" menu

From the home screen, press "Menu", "Apps" the "App manager" to access the app management screen.

System memory

The amount of memory used 1 and remaining 2 is displayed.

Information

1: amount of memory used;

2: amount of memory left;

3: indication that the app is running;

4: app storage size;

5: app name;

6: app icon.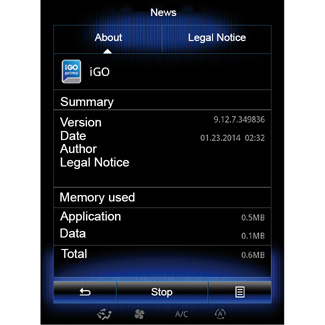 Applications information
To view information about an app, press on the required app in the list.
"About"
Press "About" to access the following information:
- application version;
- application installation date;
- application author;
- application description;
- application memory used.
"Legal Notice"
Press the Legal Notice tab to view information relating to autorisations, if available.
Note: If the app is running, press "Stop" to close it. Depending on the app, control Stop can be greyed out even if the app is running.