Back to the list
"Call logs" menu

Accessing the call log

From the home screen, press "Menu", "Phone" or press the 4 shortcut from any menu, then "Call logs" to access your call history.

The call log places the various calls in four tabs:

1 All calls (incoming, outgoing, missed);

2 incoming calls;

3 missed calls;

5 outgoing calls.

For each list, the contacts are listed from the most recent to the oldest.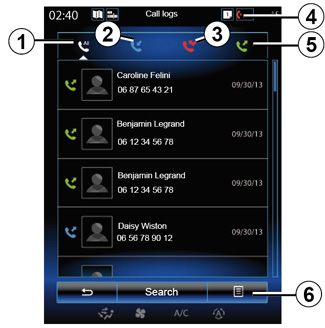 Browsing the call log
Press a tab to view its content.
Swipe up and down to scroll through the list of calls.
Updating the call log
Press 6 and select "Update list". A message will notify you that the data has been updated.
Searching contacts
Press "Search" to display virtual keyboard. You can search the contact by entering their name using the keypad.
Making a call from the call log
Press one of the four tabs, then select the contact/number to dial. The call will be started automatically.
For safety reasons, carry out these operations when the vehicle is stationary.