Back to the list
Menu « Multi-Sense »

From the home screen, press "Menu", "Vehicle" then Multi-Sense to access the Multi-Sense menu. You can also access by pressing Multi-Sense on the central control.

Selecting mode

On the Multi-Sense menu, select one of the available modes:

- "Comfort";

- "Sports";

- "Eco";

- "Neutral";

- "Perso".

To find out more about each of these modes, please see your vehicle user manual.

Note: depending on the vehicle, the last active mode is not remembered when restarting the vehicle. By default, the vehicle restarts in "Neutral" mode.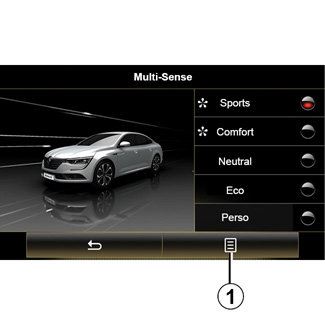 Mode configuration
Press 1, then "Current mode configuration".
You have various parameter values which enable you to customize vehicle systems:
- "Steering";
- "4RD";
- "Damping";
- "Powertrain";
- "Thermal comfort";
- "Display";
- "Engine sound design";
- "Ambient lighting";
- "Driver massage".
Note: for several modes, some system options may be greyed out and you cannot select these parameter values.
Note: it is only possible to customise the mode currently in use if you have first selected "Perso" mode.
A video is available to view a demonstration of Multi-Sense mode. With the vehicle at a standstill, press 1, then "About".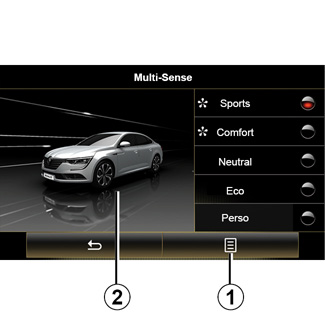 Quick access to favourite modes
Once the "Multi-Sense" menu is displayed on the multimedia screen, successive presses on the "Multi-Sense" control allow you to switch between the two favourite modes that you have selected. To configure your two favourite modes, press 1 then "Customize preferred modes".
Reset parameter values
Press 1, then "Reset current mode" to the default values. Depending on the mode selected, the Dual function can be activated and adjusted. For further information about this function, please refer to section 3 of your driver's handbook.
When you customise the current mode configuration such as the ambient lighting or the massage function for example, the settings are automatically saved to your user profile.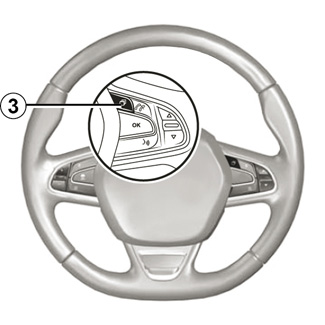 Theme configuration
Press the screen 2 or the pop-up menu 1, then press "Current mode configuration" to configure the display style.
Depending on the style selected, by pressing the 3 button or the knob 22 on the central control, you can display different information on the instrument panel, such as: the indication of direction of your route, the current audio source, the compass, engine power and torque, current consumption, etc.