Back to the list
"My apps" menu

From the home screen, press "Menu", "Apps" then "My apps" to access the multimedia system applications.

The apps installed on your navigation system will be displayed. Press the required app icon to launch the app.

Note: If the list of apps has more than one page, swipe the screen to move to the next or previous page.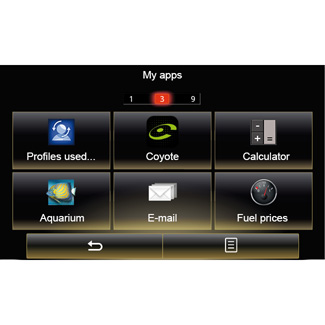 Organize applications
To organise your apps, press the pop-up button, then "Organise apps".
App reorganisation can be done directly by dragging-and-dropping them.
Applications can be deleted by pressing delete button "X". If the app cannot be deleted, the delete button is not displayed.
Note: The "Organise apps" button is disabled while driving.