Back to the list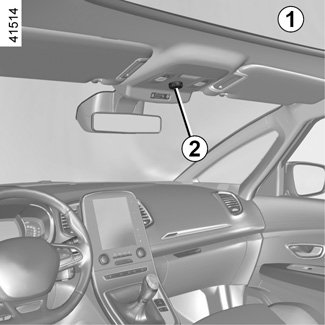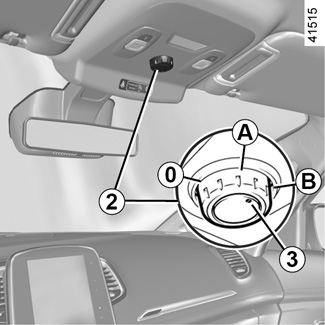 To slide the curtain 1
With the ignition on:
- full opening: move the mark 3 on the button 2 towards position B. The marks in between correspond to the intermediate positions of the sun-blind.
- to close: move mark 3 on button 2 to position 0.
Special features
If the fixed sunroof blind detects resistance when closing (arm etc.), it stops and then moves back several centimetres.
Operating fault
If the blind will not close, turn switch 2 to position A or B to open the blind, then turn switch 2 to position 0 until the blind is fully closed.
If the blockage persists, contact an approved dealer.
Driver's responsibility
Never leave your vehicle with the RENAULT card or key inside, and never leave a child, adult who is not self-sufficient or a pet, even for a short while.
They may pose a risk to themselves or to others by starting the engine, activating equipment such as the electric windows or by locking the doors.
If something gets trapped, reverse the direction of travel as soon as possible by turning button 2 fully to the right (position B).
Risk of serious injury.