Back to the list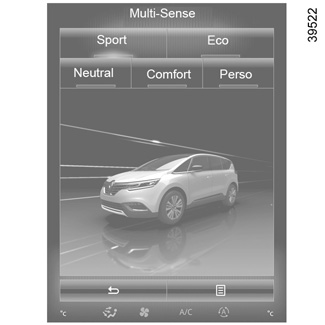 The "Multi-Sense" system enables you to choose between five modes (depending on the vehicle) controlling the driving, ambient lighting and the tone and smoothness of the engine:
- modes Comfort, Neutral, Eco and Sport are preset and associated with customisable light environments and engine noise;
- mode Perso is fully customisable.
The drive modes affect the:
- power-assisted steering;
- engine and gearbox responsiveness;
- heating level.
They also affect the:
- passenger compartment and instrument panel lighting;
- the information on the instrument panel and multimedia screen;
- engine noise;
- massage seat.
Note: the previously selected mode is not stored when the vehicle is restarted. By default, the vehicle restarts in "Neutral" mode.
Mode Comfort
This mode favours smooth steering. The interior environment is softened.
Mode Neutral
Default mode, mode Neutral selects the vehicle factory settings.
Mode Eco
Mode Eco is geared towards saving energy and the environment. The steering is smooth, engine and gearbox management enable fuel consumption to be lowered. Air conditioning is managed to be used only when necessary.
Please refer to the information on "Driving advice, Eco-driving" in Section 2.
Sport mode
This mode enables an increased responsiveness from the engine and the gearbox. The steering is firmer.
Mode Perso
This mode enables you to manually configure the drive, light environment and, depending on the vehicle, the comfort and engine noise.
In any mode, you can change the colour of the ambient lighting as well as the format of the information displayed on the instrument panel and multimedia screen.
You can also reset to the default settings.
After the engine is switched off, the vehicle will always restart in Neutral mode.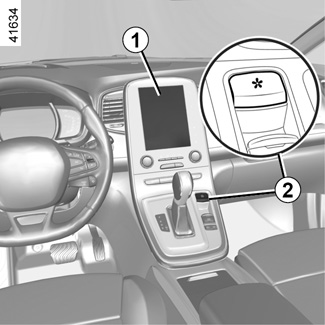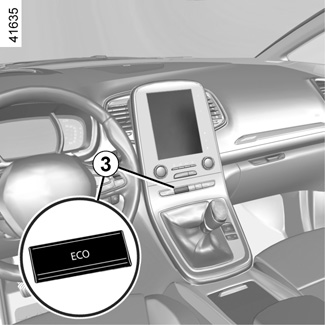 Accessing the menu
You can access Multi-Sense, depending on the vehicle:
- from the multimedia screen 1. Select the Vehicle menu, then Multi-Sense;
- by pressing switch 2;
- by pressing the Eco 3 button which runs the Eco mode automatically and opens the "Multi-Sense" menu on the multimedia screen 1 for a few seconds.