Back to the list
This lane departure warning system notifies the driver when they accidentally cross a continuous or broken line.
This function uses a camera attached to the windscreen, behind the rear-view mirror.
This function is a driving aid in the event of the accidental crossing of a continuous or broken line in the road. However, the function is not intended to replace the driver. The function can be disrupted under certain conditions, including:
- poor visibility (rain, snow, fog, dirty windscreen, glare of the sun, partially obscured road lines, etc.);
- roads with tight bends;
- closely following a vehicle in the same lane;
- worn road markings, difficult to distinguish or spaced very widely apart;
- narrow roads;
- ...
In this case, warning light  on the instrument panel goes out to indicate that the function will not operate (lines not detected).
Under no circumstances should this function replace the driver's care or responsibility whilst performing manoeuvres.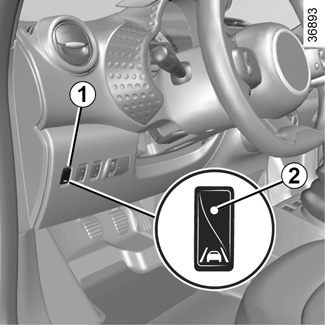 Activation
Press the switch 1: the warning light 2 integrated on the switch 1 comes on.
The function sounds the alarm if:
- the warning light lighted integrated on the switch 1 is on;
and
- the vehicle speed is greater than approximately 45 mph (70 km/h);
and
- lines are detected.
Warning light  comes on on the instrument panel to notify the driver.
When a line is crossed and the indicators have not been activated, the function alerts the driver through warning light  on the instrument panel, and a beep.
Conditions for non-activation of alerts
- Indicators activated or having been activated less than approximately four seconds prior to departing from the lane;
- Very fast lane departure;
- Driving continuously on a line;
- On bends, the function allows for slightly cutting the bend;
- dirt covering the windscreen camera;
-...
Deactivation
Press the switch 1. The warning light 2 in the switch 1 goes out.
Operating faults
In the event of a malfunction, the warning light on the button 1 remains off, and warning lights © and  come on on the instrument panel alongside a beep. Please consult an authorised dealer.