Back to the list
Operating principle
Ultrasonic detectors, installed in the rear bumper (depending on the vehicle), measure the distance between the vehicle and an obstacle whilst reversing.
This measurement is indicated by beeps which become more frequent the closer you come to the obstacle, until they become a continuous beep when the vehicle is approximately 30 centimetres from the obstacle.
NB: make sure that the ultrasonic sensors are not obscured (by dirt, mud, snow, etc.).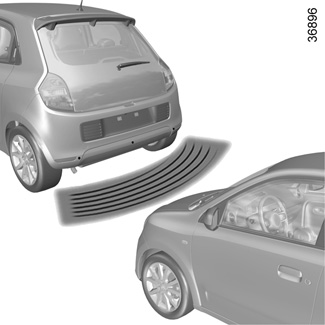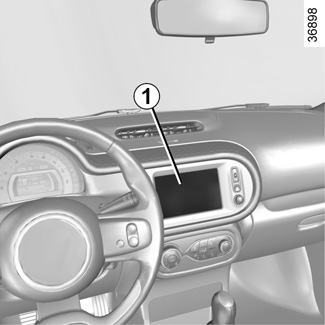 Operation
When reverse gear is selected, most objects which are less than approximately 1.20 metres from the rear of the vehicle are detected, a beep sounds and, depending on the vehicle, the display 1 comes on.
This function is an additional aid that indicates the distance between the vehicle and an obstacle whilst reversing, using sound signals.
Under no circumstances should it replace the driver's care or responsibility whilst reversing.
The driver should always look out for sudden hazards during driving: always ensure that there are no moving obstacles (such as a child, animal, pram or bicycle, etc.) or small, narrow objects such as stones or posts in your path when manoeuvring.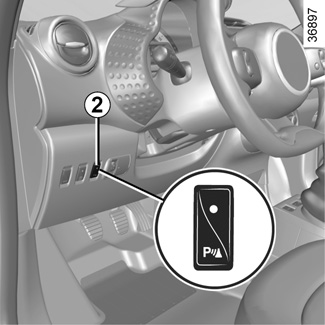 Deactivating the system
Press switch 2 to deactivate the system:
The indicator light built into the switch lights up to remind you that the system is deactivated.
Pressing the switch again will reactivate the system and switch off the indicator light.
Depending on the vehicle, you can deactivate the parking distance control from the touch-screen. Please see the equipment instructions for further information.
An impact to the underside of the vehicle while manoeuvring (e.g.: striking a post, raised kerb or other street furniture) may result in damage to the vehicle (e.g.: deformation of an axle).
To avoid any risk of accident, have your vehicle checked by an approved Dealer.