Back to the list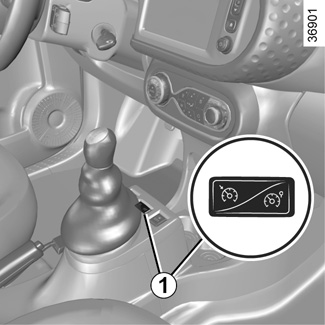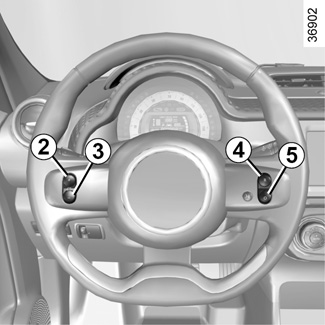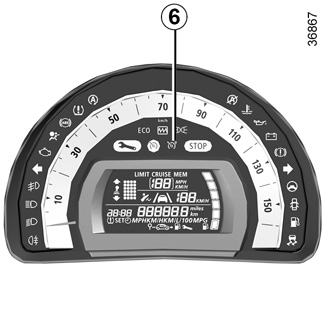 The speed limiter function helps you stay within the driving speed limit that you choose, known as the limit speed.
Controls
1 Main "On/Off" switch.
2 Limit speed activation, storage and increase switch (+).
3 Decreasing the limit speed (-).
4 Activation and recall of memorised limit speed (R).
5 Speed limiter function standby (with limited speed memory) (O).
Switching on
Press the side switch 1 . Indicator light 6 comes on, lit orange, and the message "LIMIT" appears on the instrument panel, accompanied by dashes to indicate that the speed limiter function is activated and waiting to store a limited speed.
To store the current speed, press switch 2 (+): the limited speed will replace the dashes.
The minimum stored speed is 20 mph (30 km/h).
Driving
When a limited speed has been stored and this speed is not reached, driving is similar to driving a vehicle without the speed limiter function.
Once you have reached the stored speed, no effort on the accelerator pedal will allow you to exceed the programmed speed except in an emergency (refer to information on "Exceeding the limit speed").
Varying the limit speed
The limit speed may be changed by repeatedly pressing:
- switch 2 (+) to increase speed;
- switch 3 (-) to reduce speed.
The speed limiter function is in no way linked to the braking system.
Exceeding the limit speed
It is possible to exceed the limit speed at any time. To do this: press the accelerator pedal firmly and fully (beyond the resistance point).
While the speed is being exceeded, the limit speed displayed on the instrument panel flashes.
Then, release the accelerator: the speed limiter function will return as soon as you reach a speed lower than the stored speed.
Limited speed cannot be maintained
If driving up or down a steep gradient, the system is unable to maintain the limited speed: the memorised speed flashes on the instrument panel and a beep sounds at regular intervals to inform you.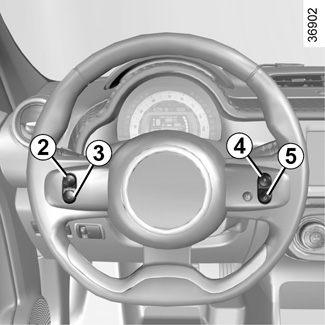 Putting the function on standby
The speed limiter function is suspended when you press switch 5 (O). In this case, the limit speed remains stored and the message "MEM" accompanied by this speed appears on the instrument panel.
Recalling the limit speed
If a speed has been saved, it can be recalled by pressing switch 4 ((R)).
When the speed limiter is put on standby, pressing switch 2 (+) reactivates the function without taking into account the stored speed: it is the speed at which the vehicle is moving that is taken into account.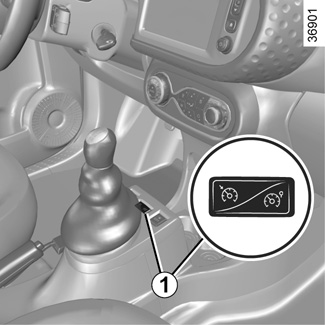 Switching off the function
The speed limiter function is deactivated if you press switch 1: in this case a speed is no longer stored. The orange instrument panel warning light  goes out, confirming that the function is stopped.