Back to the list
"Applications" menu

From the main menu, press Applications or Apps to access the following:

- the apps installed on your navigation system;

- "Photo";

- "Video".

Note: some services will be available free of charge for a trial period. You can extend your subscription from your vehicle or online via the www.myrenault.com website.
Pop-up menu
Use the 1 pop-up menu to:
- organise your applications by drag-and-drop;
- delete the application by pressing on the "X" delete button. If the application cannot be deleted, the delete button is not displayed;
- activate notifications;
- access the App Manager.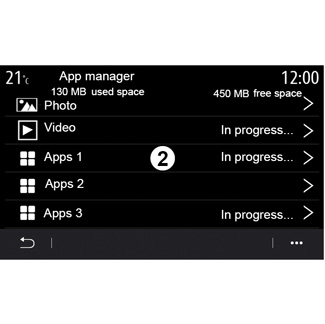 App Manager
Use the App Manager menu to view the 2 apps that are currently running on your multimedia system.
Note:
- the "Photo" and "Video" applications are not handled by the "App Manager";
- applications that are running will stop as soon as the multimedia system is switched off;
- the number of applications is limited according to system storage space.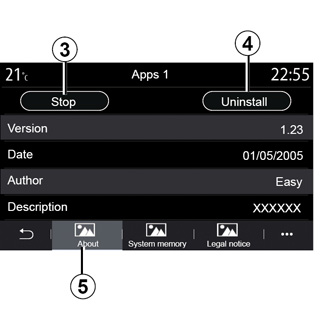 Select one of the 2 applications. From the "About" tab 5, you can access information on the application (version, creation date or expiry date, title, etc.).
You can also:
- "stop the application" 3;
- "uninstall application" 4.
From the "Memory" tab 7, you can access the following information:
- app storage size;
- Application data storage size (music, photos, etc.);
- Total app storage size.
From the 6 pop-up menu, you can erase the application data.
From the "Legal notice" tab 8 you can access permissions information, if available.