Back to the list
Suggestions & notifications

Use this menu to display suggestions and notifications during driving.

Each notification informs you of events based on the following categories:

- "Suggestions & notifications";

- "Navigation";

- "Multimedia";

- "Phone";

- "Vehicle";

- "Apps";

- "System";

- "Other".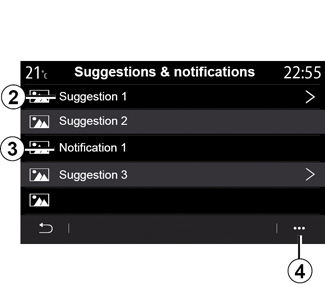 Press the "Suggestions & notifications" menu 1 to access the list of notifications received.
You are informed of the current number of notifications in your Notification area.
You may receive two types of information:
- a 2 suggestion: Information which may require action(s) to be taken;
- a 3 notification: Basic information.
Use the pop-up menu 4 to:
- activate/deactivate the notifications by category;
- delete notifications.
For safety reasons, carry out these operations when the vehicle is stationary.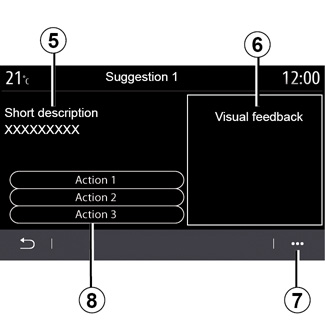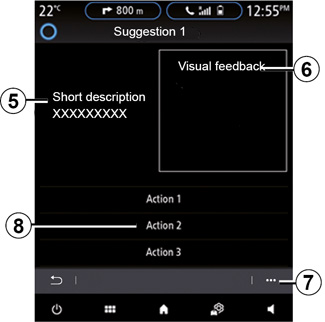 Select one of the suggestions 2 to access the details:
- simplified description 5;
- image 6 related to the suggestion: e.g. traffic, system, vehicle, telephone;
- recommended action 8 to be taken accordingly.
From the pop-up menu 7, you can delete the suggestion.