Back to the list
EXTERIOR LIGHTING AND SIGNALS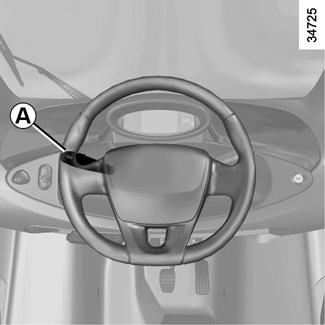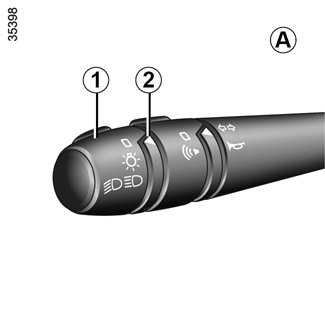 Daytime running lights
The dipped headlights come on without using the stalk A when the engine is started.
u Side lights
Turn end 1 of stalk A until the symbol is opposite mark 2.
The instrument panel lighting dims.
k Dipped beam headlights
Manual operation
Turn end 1 of stalk A until the symbol is opposite mark 2.
With the ignition switched off, it is not possible to operate the lights (to avoid lights being used when parked).
á Main beam headlights
With the stalk A in position k, pull it towards you. An indicator light on the instrument panel will come on.
To return to the dipped headlights position, pull stalk A towards you again.
e Switching off the lights
Return the stalk to its original position. When the engine is started, the dipped headlights stay on. They will go out once the engine is switched off.
When the vehicle is driven at maximum permissible load (refer to the information on «Weights» in section 6), you must have the dipped beam headlights adjusted, while it is being used, by an Approved Dealer.
Lights-on warning buzzer
If the stalk is not returned to its initial position e after the ignition is switched off, a warning beep sounds four times to warn you.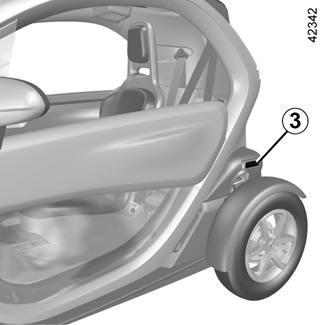 Retroreflectors 3
Remember to check the condition of the side retroreflectors regularly. In the event of damage, please replace them.