Back to the list
FRONT HEADLIGHTS: changing bulbs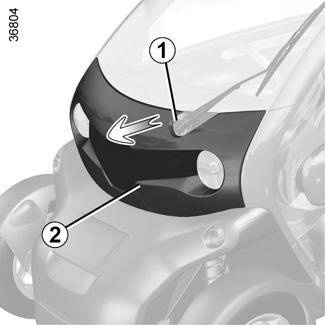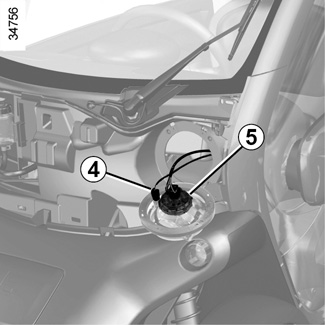 Front lights
- Unclip upper bar 2 of the bonnet before introducing your hand in 1;
- unscrew 3 the front lights using standard tools;
- pull the headlight towards you as far as it will go.
Note: the headlight cannot be pulled out completely. Avoid pulling too hard, as this could damage the connections.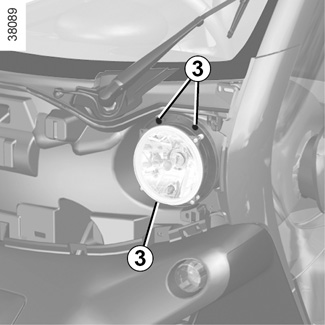 Type of bulbs
4 Side light
Bulb type: W5W.
5 Dipped beam/main beam headlights
Bulb type: H4.
- Turn bulb a quarter of a turn 4;
- and/or undo the bulb 5, then turn the bulb holder a quarter turn.
The bulbs are under pressure and can break when replaced.
Risk of injury.
Direction indicator lights 6
Please contact an authorised dealer.
Cleaning the headlights
Use a soft cloth. If this does not clean it properly, moisten the cloth with soapy water then rinse off.
Finally, carefully dry off with a soft dry cloth.
Cleaning products containing alcohol must not be used under any circumstances.
To comply with local legislation, or as a precaution, you can obtain an emergency kit containing a set of spare bulbs and fuses from an approved dealer.
Any operation on (or modification to) the electrical system must be performed by an authorised dealer since incorrect connections could damage the electrical equipment (wiring, components). In addition, your dealer has available all the parts necessary for fitting electrical components.